Q:We need a suggestion for a school computer room with 40 students per class?
A:The school needs 4 server machines and 40 SMART NETCOM T800 client machines. This will make the monitoring easier because instead of installing 40 individual machines now you only have to install 4 machines and use Multipoint Dashboard to operate and control classroom.
Q:How Windows Server 2016 and Windows 10 Pro work?
A:The server will create a session for SMART NETCOM T800 that requests a connection. Each session is independent of one another. Clients can use applications installed on the server machine depending on the privileges. All of the computing and processing are done on the server and streamed to the client screen.
Q:Will SMART NETCOM slow down the work?
A:No, it won't. The system is equipped with high-performance server and high-speed connections from T800 with up to 1Gbps (10/100/1000)
Q:How many SMART NETCOM T800 clients can one server handle?
A:One server can connect up to 30 SMART NETCOM T800s at the same time depending on the programs and the spec of the server.
Q:Can one application be used by multiple clients?
A:Yes. SMART NETCOM T800 works on its own session. It's like you are using your own computer.
Q:Can I install software to SMART NETCOM T800?
A:No, every software installation must be done at the host (server) only.
Q:If I have 2 servers running. Do I have to monitor both servers at the same time?
A:Not necessarily. You can set one server to be the main server and then add another server in and work from a single server. You can even control SMART NETCOM T800 clients from both servers too.
Q:If a server fails, do the SMART NETCOM T800 clients become unusable?
A:Technically yes, But!! If you have another server running, you can connect the clients to that server. In the meantime, you should contact us with the issue and we will start to investigate and fix the system for you.
Q:How difficult is the maintenance?
A:Not hard at all! Instead of taking care of the machines including programs, windows and updates, with our solution, you now don't have to worry about SMART NETCOM T800 because we will replace the failing equipment for you in the next day! For the Windows and programs, from installing everything on each machine, now you only install them once on the server machine and SMART NETCOM T800 in the network can access and use the programs instantly!. Easy, isn't it? Now that's save a lot of your time.
Q:Can the system be used with a domain?
A:Yes, only connect a server to a domain and SMART NETCOM T800 can now access the domain.
Q:Can I connect USB or Smart phone to the system?
A:Yes, SMART NETCOM T800 has USB ports in addition from keyboard and mouse.
Q:Working principle, working model of the system. SMART NETCOM T800
A:T800 or Client Called the applicant, that is, other computers. In the network that accesses various resources from. Server You can learn more information at. : https://www.snc.co.th/Article/Detail/111211 
Q:Can use VPN or work from home?
A:Able to use VPN from home When used in conjunction with a public hostname or VPN site to site.Link https://fb.watch/2_ErC45zNM/ 
Q:I already have a HOST or server, can I buy a T800 or not.
A:Can be purchased to work with the existing ones. Link https://fb.watch/2_EsSCyeRq/ 
Q:What Windows is supported?
A:Supports XP, 7, 8, 10, Windows server 2008, 2008r2, 2012, 2012r2,2016, 2019.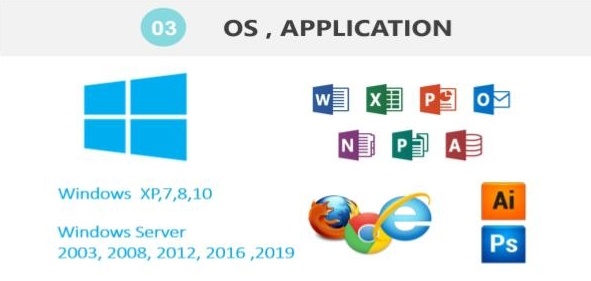 Q:What is KVM Switch.
A:Switching device to operate multiple computers with the same monitor,keyboard, mouse, saving space.
Q:Can 3d work?
A:can not be used This is because 3D programs require a graphics card to run.